Chris Kern | @chriskern11
The Memphis Grizzlies have a few upcoming free agents that are all guys they'd like to bring back, but due to the cap situation it sure seems very unlikely that they would all return. They have some interesting decisions to make; they can pay the younger stretch four in JaMychal Green but they also would like to bring back the veteran core to this team. This is a big offseason for the Grizzlies as they could make the decision to move on from the Grit and Grind era by letting Randolph and Allen go – which is a great possibly – but it's also very possible that they both return. The team will have to decide if they want to keep the veterans or if they'd rather go a younger route to try and put themselves in a better position to rebuild later on.
SG Tony Allen 6-4, 213 Lbs, Age-35
I would say it's possible that Tony Allen will end up staying in Memphis, but at the end of the day it will all come down to whether or not he will take a pay cut or whether he will go elsewhere. James Ennis and Wayne Selden are both good defenders and could see their roles on that end of the floor increase even more if Tony Allen doesn't return to Memphis next season. Allen is still an elite defender and I think it would make a lot of sense for him to leave Memphis and go to a title contender next season. Don't get me wrong, I'd love to have him come back, but since he's getting up there in age and doesn't have a lot of years left, it would make sense for him to give it a go and try to get another ring. He last won a title in 2008 with the Boston Celtics and he could be looking to go out on top and retire after winning another title.
He is known as the Grindfather in Memphis because he is the perfect representation of the toughness that the Memphis Grizzlies are all about. I'd love to have him back for just a few million, but if it's considerably more than that then I don't think it would be worth it; the team has other needs that need to be addressed before resigning Tony Allen to a lucrative deal. Every Memphis Grizzlies fan loves him but if he wants anything more than a few million he will likely be on his way out of Memphis.
SF Vince Carter 6-6, 220 Lbs, Age-40
Vince Carter has said multiple times that he will be playing next season and, based off of his performance this past season, he sure seems like he can keep it up. He could very well leave Memphis to go play for a contending team – it would make a lot of sense for him if he did so – but he really seems to enjoy playing in Memphis so I wouldn't be surprised if he came back. He will most likely sign a cheap contract wherever he signs, which would be a good deal because he can still play big minutes at the wing spot.
Vince Carter could possibly still be the starting small forward next season; with James Ennis as a backup wing who is very capable of starting, Carter will be able to get the rest that he requires. Chandler Parsons could also start at the small forward spot if he is somehow healthy, which could then allow Carter to play at the shooting guard spot. Vince is still a good player and as long as we have good backups who can help manage his minutes then he should be able to have a very successful season next year. The Grizzlies have other options in case Carter leaves, but if he wants to come back, he should be able to get the playing time that he wants.
PF Zach Randolph 6-9, 260 Lbs, Age-35
Zach Randolph has made a huge impact on the community of Memphis both on and off the court, but he could very likely be leaving town if he doesn't decide to take a pay cut. I expect him to take that pay cut, but he could very well leave to compete for a championship and is still a very good player. He did a very good job in the sixth man role, but in the playoffs when they decided to start him over Green after struggles early on in the series vs the Spurs, he did a great job.
He would likely return to the bench if he returned to Memphis, but if the Grizzlies aren't able to resign Green then its possible that ZBo could get a chance to start. The Grizzlies would likely sign a younger power forward if that happened because Randolph will need some days off to get rest to keep him fresh for the postseason.  He is a good scorer, a great rebounder, and brings that physical play down low that is tough for a lot of the bigs in today's NBA to handle. It pretty much comes down to what he wants to do; if he wants to return to Memphis then he will, but if he wants to go after a ring then he will do that.
PF JaMychal Green 6-9, 227 Lbs, Age-26
JaMychal Green has a much different situation than the other free agents. He is a young stretch four, which, in the NBA, every team needs at their power forward spot. He will very likely get a huge contract in free agency. Whether in Memphis or not he is going to get paid a huge amount; there will be multiple teams that offer him a lot of money. He is an athletic big who can shoot the three ball.  Memphis has Marc Gasol who can stretch the floor, but Green would still help out a lot – as he showed this past season.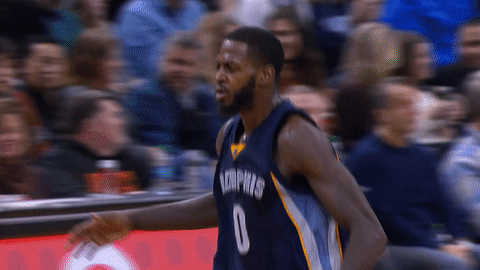 With him being only 26, he could be the power forward in Memphis for a long time, but it's going to be tough to keep him. He hasn't made a lot of money yet in his career so he is likely to sign with the team that offers him the most. The question is, will the Grizzlies be that team? The team doesn't have as much young depth inside as at the guard spot and with no current draft picks, free agency is the way they can improve their team. It's very possible he could stay in Memphis, but at the end of the day it's up to the Grizzlies. Will they give him the money that he wants?
Predictions
I would be shocked if all four of these players return to Memphis next season as the Grizzlies are also very likely to look for another role player or two to help score some points. I do not think Tony Allen will be in Memphis next season; I think he will want too much money, and with James Ennis and Wayne Selden being capable defenders, he isn't worth it. I think Vince Carter and Zach Randolph will both return to Memphis on cheap contracts without much thought. Carter may leave if he wants a championship, but he really enjoys playing here so I don't expect him to leave. Randolph could go get paid elsewhere, but I feel he is a loyal guy and really loves the city of Memphis so he will be back next year. JaMychal Green, I feel, will also return next season. It will take a big contract to do so, but it is something that the Grizzlies need to do. I believe Green will sign a 4 year deal at about $15 million annually. The Grizzlies have the potential to make some nice moves that will make this a 50 win team next year; resigning a few of the current guys will be the right decision.